Some homeowners unhappy with influx of renters
Disgruntled longtime residents say that having more renters changes the character of the neighborhood. Others argue that renters, too, care about neighborhood welfare.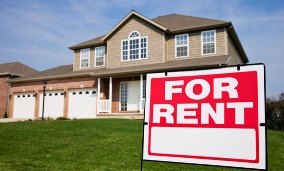 We've written a lot about institutional investors buying up homes and turning them into single-family rentals, and about more Americans becoming renters, either by choice or by necessity.
But seeing more renters move in doesn't always make the neighbors happy.
"Used to, we knew our neighbors," Laura Holcomb told The New York Times. She says her neighborhood in Memphis, Tenn., is now seeing homeowners replaced with renters. "Except for the two that have been here, I don't know any of my neighbors."
Post continues below
In the early days of the foreclosure crisis, neighbors complained about vacant houses that had become eyesores and were not kept up. That dragged down the value of all the nearby homes. Having renters move in seemed a vast improvement.
But, some neighbors told The Times, that has not always been the case.
In the Austin Park neighborhood near Atlanta, the homeowners association at first did not see any need to restrict rentals. That has changed after, as The Times put it, "a summer of loud music, barking dogs, prostitutes and two tenants served with a murder warrant."
"You're caught between 'I want the dues paid' and 'I want a peaceable, nice existence,'" Joi Aikens, the president of the homeowners association, told The Times.
Landlords argue that, contrary to stereotype, they do keep up the homes they own. Obviously, some do better at screening tenants than others.
"Where we go in, we go in to fix that house up, and we're the best-looking house on the street when that goes through," says Kent Clothier, whose Memphis Invest company buys, renovates, sells and manages rental property. "That's good for the neighborhood."
Commenters on the New York Times story suggested that the bias against renters wasn't fair and that it may have something to do with class. Plus, whether people contribute to their communities is not determined by whether they rent or own. Wrote Don P. of Perth Amboy, N.J.:
"All across cities and towns you have some people who are active, involved and dedicated to sustaining and building their communities. Some of those people are homeowners and some are renters. ...

"It's just too simplistic to say all homeowners are good citizens and neighbors and all renters are uninvolved citizens and bad neighbors. Both homeowners and renters have a vital and vested interest in creating and sustaining a safe, vibrant, clean and welcoming community."
FIND YOUR DREAM HOME OR APARTMENT
msn real estate is social
WHAT'S YOUR HOME WORTH?
HOME IMPROVEMENT PROFESSIONALS
more on msn real estate