Top 5 cities in which to be a chicken
Redfin tallies the number of real-estate listings that mention chicken coops. Hotbeds of free-roaming wild fowl such as Miami and Key West were not included.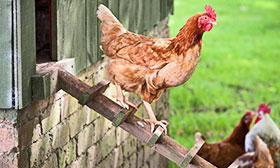 We write a lot of "best places" stories, sharing lists of the best places for families, for retirees, for homeowners on a budget.
But we have never written about the best cities in which to be a chicken. Because, well, we didn't know such a list existed. The real-estate company Redfin has compiled a list of the "Top 5 Cities to Be a Chicken." This is not a list of the best places for the cowardly, but of the top cities to keep poultry.
Post continues below
The list is based on the number of homes listed for sale in the last three months in which chicken coops were mentioned in the listing.
All of the top five cities for chickens were in the West, where the locavore food movement is strong and the neighbors would look askance at the free-range chickens that run wild in South Florida. These cities also have relatively mild climates, so the chickens can stay outdoors or in unheated enclosures all year.
We were surprised that neither Miami nor Key West appeared on this list, but it seems that South Florida's chickens are all on the lam, with a bounty on their heads. If you had a chicken coop in Miami, you would not want to put it in a real-estate listing because it's illegal.
Free-range hens and roosters are so common in Miami that the city code enforcement department had to hire "Chicken Busters." The confiscated fowl are sold to farms and the money is donated to charity. Key West also has done chicken roundups, and gangs of roaming chickens have also been a problem in New Orleans, Hawaii and other warm-weather locations.
If you're interested in keeping chickens in your yard, the first thing you want to do is check your city and county ordinances to make sure it's allowed. Most local ordinances require that the chickens be kept caged. You can get more information at The City Chicken.
Redfin operates in 18 states, meaning more than half the nation was not evaluated on its chicken friendliness. You could be living in a great chicken city and not know it.
The top five cities for chickens, according to Redfin, are:
Portland, Ore.

Ventura, Calif.

Here, chickens are so popular that they have their own Facebook page,

Ventucky Chicken

, where owners trade tips on chicken culture.

San Diego. "Chicken coops are the trendiest house accessory in San Diego," Jordan Clarke, a Redfin agent, said in a news release. "Some have a small, one-hen coop, while others have deluxe multiple-level coops brightly painted in neon colors."

Sacramento, Calif. According to Redfin, the city is a hotbed of undocumented birds, whose owners have not paid a required city fee of $10 per household and $15 per chicken.

Seattle. "You'd be surprised by how many homes for sale have coops," Bree Al-Rashid, a Redfin agent, said in a news release. "Sometimes they're the front-and-center focal point of a yard, and sometimes they're unobtrusive, covered by trees and bushes."
You can see a collection of urban coops with homes for sale at Redfin's "Chickens Rule" page. 

How old is your hen?  She may just be taking a break or need to molt.  Have you ever been to Back Yard Chickens . com?  They are an awesome group of people and the site has a lot of info about chickens.   I hope anyone interested in becoming chicken owners takes a look at BYC.  I did before I got my chicks so I was prepared with what to expect.  I go there everyday and learn something new or to ask a question or just to look at all the pretty chickens. ;o}
I lived in Seattle for 15 years on First Hill ( Pill Hill to the residents) and I never saw any chicken coops in the city itself???? Maybe out there in Maple Valley, Enumclaw or Eatonville but not in the City itself... Hell, they would have never escaped Ezell's if they did reside in the City!!!


Another hipster trend that is actually hurting the animals. Local animal shelters in cities that allow chickens are beginning to see more and more come in. These clueless trend followers don't bother to check that hens only lay for a couple of years and can live another ten years after they stop. Real farmers eat them after they quit laying. Hipsters take them to animal shelters.

Are you sure you want to delete this comment?
FIND YOUR DREAM HOME OR APARTMENT
msn real estate is social
WHAT'S YOUR HOME WORTH?
HOME IMPROVEMENT PROFESSIONALS
more on msn real estate