Weigh more? Pay more in this rental apartment
In this complex in Osaka, Japan, you have a built-in incentive to get trim. Gain weight and your rent goes up, by about $10 a month. Lose and you'll save.
For the renter who wants everything, here's a special deal. Oak House, a Japanese apartment operator and guest house manager, offers group living for women with a twist: Your rent goes up or down with your weight.
The idea is to give renters a built-in incentive to get trim. Gain weight and your rent goes up, by about $10 a month. Lose and you'll save 10 bucks. Sorry, guys. It's is a ladies-only deal. The complex, called Lady Share House B&D, is in Osaka.
Post continues below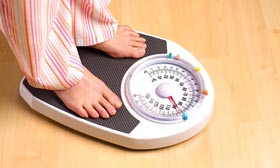 The rent cost is figured by multiplying your weight in kilograms by 1,000 yen. A kilogram equals about 2.2 pounds, and 1,000 yen equals about $10.50. (Here is MSN Money's currency conversion calculator.) The minimum rent is 38,000 yen (around $400). 
Renters are weighed every three months. The Tokyo Times offers this example: If you weigh in at 132 pounds (60 kilograms), you'll pay about $603 (60,000 yen) a month in rent. If you manage to drop 22 pounds (10 kilos) your rent drops too, to $502 a month.
According to Tokyo-based blog Rocket News, Oak House manages about 2,300 units. Only the two dozen residents of Lady Share House seem to get the weight-rent incentive.
Lady Share House B&D has an exercise studio with stationary bikes and gym equipment. A spa operates in conjunction with the complex, and tenants are offered free lectures on healthy eating and weight loss. In an odd bonus, residents are offered unlimited "free snacks and fizzy drinks."
Group living is unusual in Japan, the blog says. Apparently, housing women and men together is more common since, to increase market share, the company is touting its women-only complexes. In Oak House complexes, men and women live on separate floors, which Rocket News says appeals to women renters.
Shunned by some as being inconvenient and a hassle, others are being drawn to added-value properties featuring amenities such as yoga studios and home theater facilities. Oak House said there is a waiting list of 100 people at its most popular location.
The benefits of group living are becoming apparent in Japan. Rooms are furnished, a money-saving plus. And residents are not required to pay the typical "key money" deposit, equal to two months' rent. In theory, key money is refundable, Rocket News says. In reality, the deposit is usually eaten up by cleaning charges and other expenses.
From the tiny home movement to "capsule" apartments, so many innovative and even radical housing ideas begin in Japan, where costs for everything are astronomically high and people are forever trying to figure out how to save on housing. Check this list of the world's 15 most expensive cities: Four are in Japan.
FIND YOUR DREAM HOME OR APARTMENT
msn real estate is social
WHAT'S YOUR HOME WORTH?
HOME IMPROVEMENT PROFESSIONALS
more on msn real estate