Who's advertising in your bathroom?
Take a look around your home and see how many manufacturer logos you can count on permanent fixtures.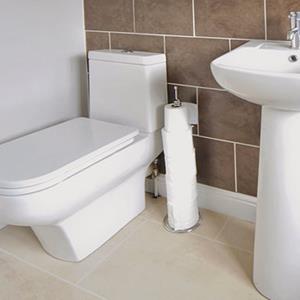 By Randy Nelson, Movoto
We've come a long way since the days of "Mad Men." Technology has helped the world of advertising grow in huge ways since that era depicted in that television show. At the same time, it has also given rise to the means to skirt television ads in the form of commercial-skipping DVRs and ad-banner-zapping web browser plug-ins.
For all that high-tech innovation, though, there's still one medium through which marketing continues unfettered even when the TV's off, the magazines are put away and the clothes are neatly folded in the dresser: Your home itself.
From your kitchen appliances, to your toilet, to the first thing you likely see when you wake up each morning — your alarm clock — even the fixtures in your home contain subtle and not-so-subtle forms of advertising via branding.
These items are getting their manufacturers' names across without expensive TV spots or multi-page ads. They're staring you in the face every day, and you probably don't even realize that there's marketing taking place.
Want to really have your mind blown? In the interest of illustrating this fact, the Movoto Real Estate blog presents the infographic below. Bear in mind that we've only included permanent and semi-permanent items you're likely to find around the house (a toothbrush was our limit), so there are countless other consumable items, from bags of chips to bars of soap, that are bringing branding into your home on a daily basis we didn't include.
Be warned: You may never look at your toilet the same way again once you realize it's essentially a porcelain billboard.
More from Movoto

Nothing wrong with discretely putting your name on a household product.  A manufacturer has a lot to lose if that branded product is a bummer.  In fact I'd be worried if a manufacturer was loathe to put its name on a household product.  What's harder to explain is why many people go around like walking bill boards with advertising on their tee shirts hawking some product, event, cause, or clothing manufacturer.

I remove all the logos that are not etched on the item, even badges and such on cars. A hair died, some 3M adhesive remover and a plastic scraper, 10 minutes of time and they are gone. Nothing worse than paying for something imprinted with advertising. The manufacturer would be paying the consumer for advertising their product.
Are you sure you want to delete this comment?
FIND YOUR DREAM HOME OR APARTMENT
msn real estate is social
WHAT'S YOUR HOME WORTH?
HOME IMPROVEMENT PROFESSIONALS
more on msn real estate