Wisconsin teacher wins HGTV Smart Home
Winner says she isn't planning to leave the family farm and her three grandsons behind to move to Florida. The home showcases the latest technology.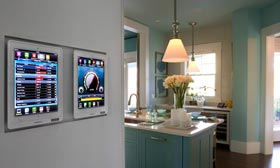 A retired teacher who lives on a Wisconsin dairy farm was the winner of the HGTV Smart Home in Jacksonville Beach, Fla.
Peggy Walker found out last week she had won the new Florida home when she was lured to a restaurant in nearby St. Paul, Minn., and greeted by friends with kazoos and confetti – as well as a TV crew.
"I entered every day I could, for every house they had," Walker told The St. Paul Pioneer Press. "My family makes fun of me. They say I'm a little obsessive about it, but they think it's fine now."
Post continues below
Walker and her husband, Paul, don't know yet what they will do with the home, though they don't plan to move to Florida full-time. They don't want to leave the dairy farm, which has been in his family since 1895, nor do they want to leave their three young grandsons.
The HGTV Smart Home, which showcases the newest home technology, is in the community of Paradise Key South Beach, on the barrier island east of Jacksonville.
The exterior of the home was modeled on traditional beach vacation homes built in the area early in the early 1900s, but the inside includes the latest in monitoring technology, HDTVs, lighting and other features. The home comes fully furnished.
The 2,400-square-foot home also has an outdoor kitchen and 1,000 square feet of covered porches, decks and pools. In addition to the home, Walker won a 2013 GMC Terrain Denali car and $100,000 in cash; the total value of her prizes is $900,000.
Most winners of HGTV home giveaways end up selling the homes without living in them. That's partly because they owe federal, and sometimes state, income taxes on their winnings. The contest allows the winner to choose a cash prize instead of taking possession of the house.
The Walkers plan to travel soon to Florida to see the house, and their tour will be filmed for the "HGTV Smart Home 2013 Giveaway Special," which will be broadcast Aug. 16.  
FIND YOUR DREAM HOME OR APARTMENT
msn real estate is social
WHAT'S YOUR HOME WORTH?
HOME IMPROVEMENT PROFESSIONALS
from our partners
more on msn real estate