Your favorite HGTV show may be Canadian
To meet demand for home-improvement shows, the cable channel imports real estate programming from up north.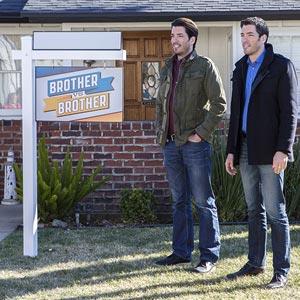 By Karen Johnson, The Wall Street Journal
Nicole Beniamini knows what it takes to sell a house in Toronto and talks like a veteran of the bidding wars in the city's real-estate market. And she's never even been there.
The 31-year-old Hillsborough, N.J., resident, like many Americans, is a devoted fan of home shows that have grown up on HGTV in the U.S. but were born in Canada. Currently, 11 shows in the cable network's weekly lineup have Canadian roots, more than on any other U.S. network. The Canadian shows are helping to fill strong demand for home and real estate programming.
Post continues below
HGTV, based in Knoxville, Tenn., says three Canadian-grown shows — "Brother vs. Brother," "Property Brothers" and "Love It or List It" — rank among its 10 most-watched. According to ratings firm Nielsen, nearly 2.1 million Americans have regularly watched "Brother vs. Brother," and nearly 1.3 million Americans have watched "Love It or List It" this year, significant for a niche network though far below the 21 million viewers of a major network hit like "The Big Bang Theory."
"Love It or List It" ran for four seasons on the W Network in Canada before landing a spot on HGTV in the U.S. in 2011. Each hourlong episode follows homeowners through a renovation and house hunt, and suspense builds as they decide whether to "love" the newly renovated home or "list" it for something better.
The show's concept came out of executive producer Maria Armstrong's personal experience. Armstrong said she faced a "love it or list it" quandary when her twin boys reached school age. With her two-bedroom family home feeling crowded, she wondered whether to renovate the basement and add a third-floor master bedroom — or make the leap to a bigger place.
"It's a common dilemma," Armstrong said at a recent taping of an episode in Toronto featuring a couple who had purchased a small house 10 months earlier sight unseen, trusting online photos and family members who had walked through it. 
"His parents assured them it was a perfect house," Armstrong said. "It's not a perfect house." 
The co-hosts — and about a dozen crew members and their gear — squeezed into the 900-square-foot home for about four hours of taping to capture the starring hosts' first impressions of the house. 
True to form, designer and show co-host Hilary Farr dubbed the small home "lovely," and real estate agent and co-host David Visentin called it "a disaster." There's no script, but there is a formula, and the two hosts do repeat their ad-libbed jabs and observations multiple times with various camera angles.
The show accepts applications from Toronto-area homeowners. At the recent taping, the homeowners had an $82,000 renovation budget — their own money — and had lender approval for a $900,000 new-home purchase.  
The crew took pains not to cross each other on the stairwell as they set up downstairs and upstairs for each new scene. "Bad luck," Armstrong said. And little space.
"Love It or List It" has quickly built a large fan base — and a fairly high-profile one. Hillary Clinton called it her favorite program last year in a New York Times  interview, calling the show "calming."
"Maybe that was a little international diplomacy on her part," said Kathleen Finch, president of HGTV and DIY, its sister network. "But I think it's because she's got great taste."
In the third quarter of this year, HGTV was the most-watched cable network among viewers whose household income exceeds $100,000, in the weekend, total day and primetime slots, according to Nielsen data. These viewers are highly prized by advertisers.
"Property Brothers," which features Canadian twins Jonathan and Drew Scott, is among the most popular shows on HGTV in the U.S. and the W Network in Canada.
The brothers, who now have three shows, this year were on the website BuzzFeed's list of HGTV's "15 All-Time Hottest Hotties." They have an assistant who "is kept very, very busy" answering fan mail, Finch said.
Content crosses the border in part because of relationships the U.S. HGTV network has with Shaw Media, which operates HGTV in Canada and a number of other networks. They co-produce shows, share content and license each other's programming.
New Jersey viewer Beniamini, a research director at Edison Research, said she likes the Canadian shows, which often feature Toronto real estate, because prices in the city more closely align with her own. "In New York or New Jersey, a small house with no yard will go for $400,000, and in South Carolina, you will get a five-bedroom, four-bath mansion with a pool for $250,000. That's frustrating."
Elsewhere in the U.S., however, Toronto home prices strike many Americans as "very, very high," Finch said. "So what we have to do is say 'This house is $800,000, which — for this neighborhood — is a fair asking price.' Because if you're sitting in a town in the U.S. where a house like that would be $300,000, you'd be sort of quietly gasping."
The median house price in Toronto, in U.S. dollars, is about $435,200, according to Canadian government data. Across the U.S., it's $203,500, according to the National Association of Realtors. "When we first started watching these shows and we saw those home prices, we kept saying 'Where in the world are they?'" said Tracey Allison, 45, an IBM program manager who lives in a suburb of Cincinnati.
As for Armstrong, whose dilemma inspired "Love It or List It," she "loved" her tiny two-bedroom Toronto home after the renovation and stayed there for five years. Then one day, a five-bedroom house with a big yard came up for sale right around the block. That's when she listed it.
More from The Wall Street Journal
FIND YOUR DREAM HOME OR APARTMENT
msn real estate is social
WHAT'S YOUR HOME WORTH?
HOME IMPROVEMENT PROFESSIONALS
more on msn real estate